Deputy Head of Secondary
Simba International School
Ndola Zambia
Deputy Head of Secondary
Required for September 2021
Based in Ndola, Zambia, Simba International School is a co-educational, secular, fee-paying, non-profit school, which provides an internationally recognised education to a culturally diverse, globally-minded student body in a caring and supportive learning environment. Simba International School is an ISAZ independent co-educational school from Early Years Reception through to Sixth Form, with both day and boarding students.
We are one of the oldest established international schools with an excellent track record for academics and character development. Simba is a Cambridge International Assessment Education (CAIE) centre and applicants must have exposure to Cambridge curriculum and methodologies.
The school is expanding and perfecting, and needs a Secondary Deputy Head who is entrenched in promoting academic excellence in IGCSE, AS and A level programmes. This should be coupled with extensive knowledge of digital resources and excellent computer skills. The successful applicant will have a good background and sound knowledge, understanding and experience of educational management, preferably from within the international schools network. Experience of the Cambridge international Assessments and examinations is desirable, but not essential, as is the experience of living and working in Africa.
Simba is a member of ISAZ. The school is in an exciting phase of facility and curriculum development and will offer the incumbent an enriching and enjoyable sense of professional fulfilment.
We seek to appoint a Secondary Deputy Head effective 1st August 2021.
Job Purpose:
To assist in leading, developing, and managing the Secondary section of Simba International School in an inspired, motivated, and dynamic way.
To strive for optimal academic performance from each learner by maintaining high teaching standards and quality in staff in a caring and supportive environment.
To support the Community Service efforts and enable the sports and extra curricula programme to function effectively within the school day.
To lead the pastoral care team and have an overall knowledge of the needs of all learners by setting consistently high expectations.
Requirements:
Leadership knowledge and understanding in planning and implementing academic programmes, lead on development with the Secondary Senior Leadership Team.
In-depth knowledge of a range of subject areas and fields of study in Cambridge curriculum.
Skills and practices of leadership values and attributes.
Professional relationships in leadership, teaching and learning and innovation.
Ability to draw up effective School Improvement plans and establishing management systems
Ability to manage community engagement and parental involvement.
Qualifications:
B.Ed. / BA (QTS) / PGCE or equivalent from recognised institution.
Minimum of 10 years' teaching experience, with 5 years at managerial level;
Form 5/Grade 12 Certificate with 5 'O' levels or equivalent
Qualifications and training relevant to the leadership position
Additional qualifications in education, business administration and social sciences would also
be an added advantage.
Good oral and written communication skills
Good administrative and interpersonal skills
Must hold high levels of integrity and Professionalism.
Registered with Teaching Council of Zambia.
Senior leadership skills:
Motivation, discipline, initiative, and professional decorum to oversee intervention programmes for learners who are underachieving.
Willingness to optimize, communicate, coordinate, and continuously review processes.
Proven and respectful communication skills within a diverse cultural teaching staff, with students and parents/business partners.
Proven skills/record in management of a department/area in an international school
Proven experience in pastoral care and/or an academic department and learner disciplinary issues.
Knowledge and experience of data analysis, student tracking, IT literacy, knowledge of Word, Excel, PowerPoint within the Microsoft Office Professional Package.
Have the ability to be pro-active, using foresight using planning skills to help move the school forward and be a team player.
Lead the Key Stage Leaders to review and develop a system of rewards and sanctions.
Monitor and manage learner attendance, working with families if/when the need arises report on, and take necessary action on all elements related to learner attendance.
Manage policy development and communications by ensuring that the secondary environment is safe, well maintained, and in keeping with the health and safety policy
Contribute to School staff policy handbook, Secondary parent's handbook and weekly newsletter.
Method of Application
The school is an equal opportunity employer and suitably qualified, self-motivated and results oriented candidates are encouraged to apply. Hard copy and/or electronic applications accompanied by detailed Curriculum Vitae and supporting documents should be forwarded to the following addresses:
Attn: The Headmaster
Simba International School
Airport Road,
Ndola, Zambia.
Tel: +260 21 2 613 674 +260 21 2 615 821
Cell +260 962 980 131
E-mail:
Application deadline
1 Jun 22:09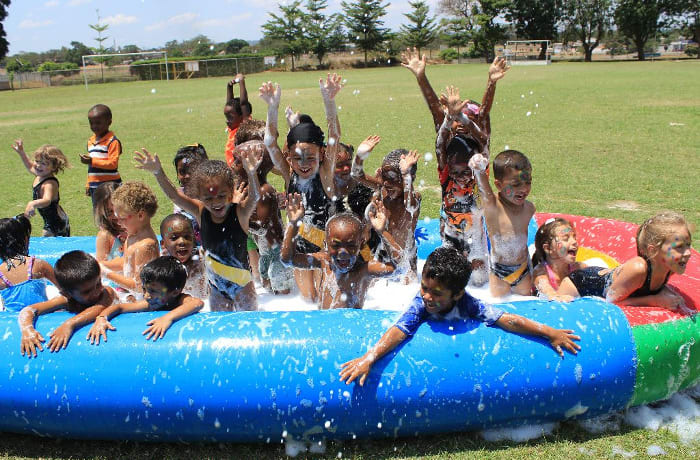 Simba International School
Ndola
Pre-school
Primary school
Secondary school
Simba International School is a multi-cultural school with boarding and day facilities. Established in 1982, the school is dedicated to providing a holistic approach to education, its standards of academic excellence are reflected in the results pupils achieve at the IGCSE and GCE 'A' levels. Pupils are given the opportunity to participate in a diverse range of after-school activities which allows them to learn new skills or hone existing ones. The school is situated close to the airport and minutes from the town centre.